Increase your direct bookings with a booking engine — commission free.
Turn website visitors into paying guests with a customisable hotel booking engine. Offer guests a modern direct booking experience with seamless payment processing and capitalise on commission-free bookings!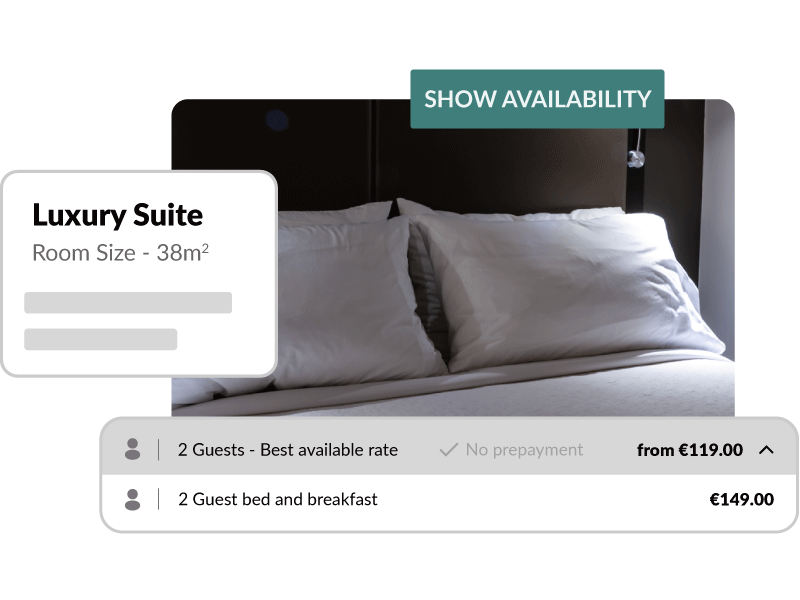 Commission-free direct bookings
We empower hoteliers with a booking engine ready to set up and connect to your website – zero added commissions.
Process online payments 24/7
Instantly process payments securely with RoomRaccoon's payment platform. Guests can pay with all major debit or credit cards.
Accurate availability and rates
Your calendar syncs across all sales channels with the RoomRaccoon Channel Manager. Connect to 200+ regional and global booking channels.
NEW
Allow guests to view your availability across multiple properties from a single screen.
Managing multiple properties is made simple with RoomRaccoon's Multi-Property Booking Engine. Effortlessly showcase all your properties on a single booking engine page. The convenient dropdown menu lists all the locations and names of your properties, maximizing occupancy across all your portfolios.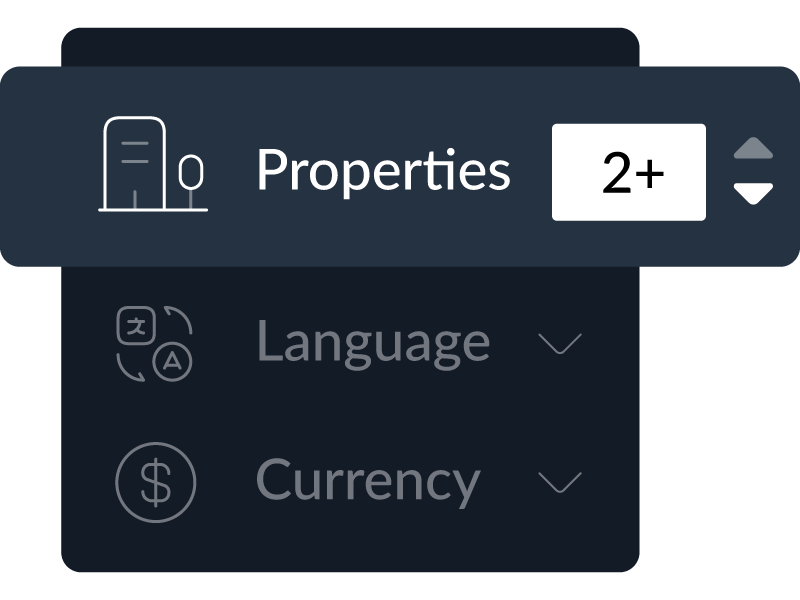 Provide the fastest, smoothest direct booking experience
By 2023, direct bookings are expected to surpass OTA bookings. Provide a superior user journey with RoomRaccoon's hotel booking engine that gives guests an instant insight into your room availability.

With a few clicks or touches, guests can select their arrival and departure dates and instantly view room options complete with rates, descriptions, amenities, and bookable add-ons.

Pre-payment or authorisation is completed in two quick steps, followed by a personalised confirmation email.
Take bookings through your website within minutes and build stronger brand awareness with a personalised booking experience.
Sell More
Sold out for a particular date range? The booking engine automatically suggests the closest alternative dates to increase your conversion rate.
---
Compare Rate Plans
Give guests more options by offering various rate plans and package deals like breakfast rates, Early-bird rates, Valentine's Day Packages, and more.
---
Increase Mobile Conversion
Increase your mobile conversion rates with a responsive design that reacts to guests' smartphones, tablets, and other smart devices.
---
Personalise Emails
Send automated booking confirmation emails and customize the templates to match your brand
---
Offer a Personalised Guest Journey
Give your direct bookers a personalised journey with modern guest tools like online check-in and digital room keys that leave an unforgettable impression from booking to arrival.
---
Award Guest Loyalty
Treat returning guests like VIPs by showing preferred rates matched to their profile.
---
Grow your direct bookings by up to 43% on average
Track your website performance and ad campaigns. Insert tracking codes for Google Tag Manager, Google Analytics, and Facebook Pixel in the booking engine.
Let guests personalise their stay with add-ons like a bottle of wine or an in-room massage. You can additionally upsell during online check-in with RaccoonUpsell.
Our channel manager automatically updates rate changes in the PMS across all your connected channels to eliminate the risk of a rate parity issue.
NEW
Elevate your direct booking experience with the Raccoon Price Checker
The comparative guest-facing tool quickly provides potential guests with a snapshot of your rates on popular booking channels (Booking.com, Expedia, Agoda, and Airbnb for now). With just one glance, they'll know they're getting the best deal by booking directly on your website.

Say goodbye to abandoned checkouts and welcome more direct bookings!This is a Premium and Enterprise feature.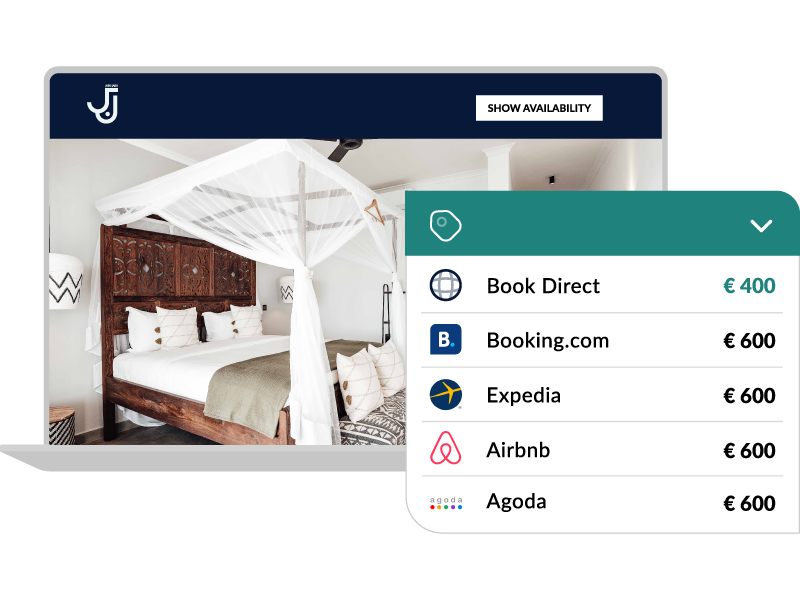 1 million+ direct bookings captured in 2021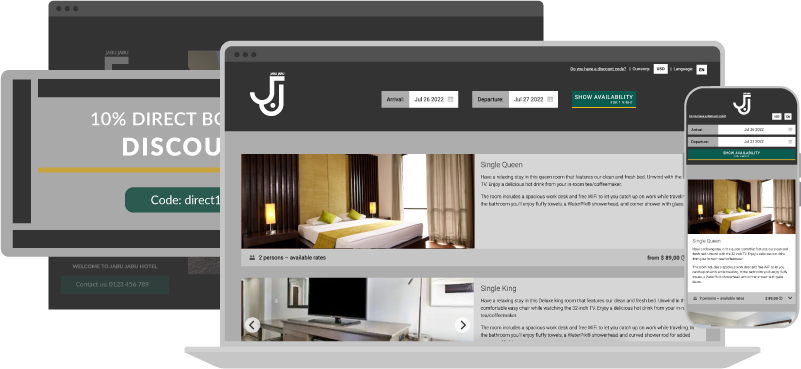 Booking engine appearance, booking conditions and discount codes
Customise your hotel booking engine to match your website. Select colors, upload photos of your rooms, and insert your logo for a seamless user experience.
You can select preferred booking conditions like 50% pre-payments and the required guest information fields.
Negotiated rates for third parties
Do you work with third-party booking agents?
Send them custom discount codes per your negotiated rates and let them book rooms directly on your hotel booking engine.
Custom discount codes to incentivise more sales
Create custom discount codes that guests can redeem at check-out. Include the code on your home page or send a post-stay email welcoming guests back with a special discount.
White label booking engine
We offer white labelling to remove RoomRaccoon branding from the hotel booking engine and all documents.
Make it easy for internationals to book directly
Accommodate international travelers with the multi-language functionality and currency converter.
Connect your website or build one
Do you already have a website? Connect the RoomRaccoon booking engine to your site for a seamless user experience and grow your direct revenue.
Need a website? Our booking engine can serve as your direct booking channel, or you can create your website with our easy-to-use website builder. Choose from modern, customisable templates and get creative!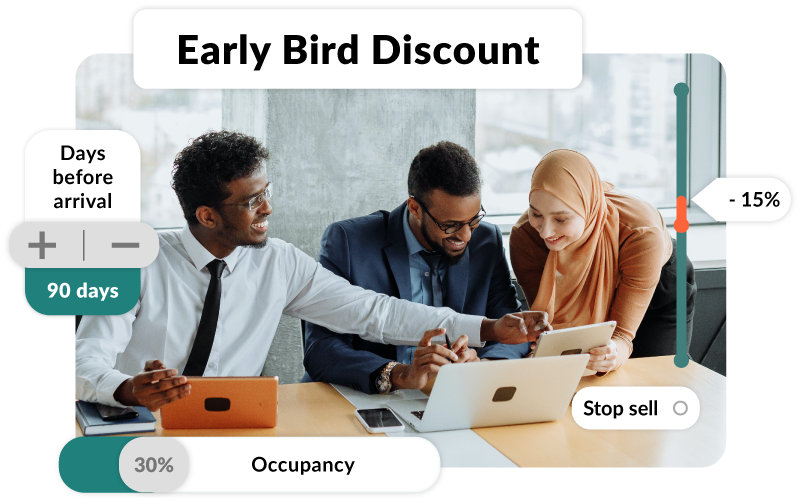 Optimise your rates automatically with the Yield Manager
Adopt an easy dynamic pricing strategy with the RoomRaccoon Yield Manager that automatically raises or lowers your rates across all sales channels, including the booking engine.
Set a yield rule, sit back, and watch your ADR increase!