Transform scattered hotel operations into clear collaboration with hotel housekeeping software
Organise and track all housekeeping and maintenance activity with housekeeping management software that enables you to assign tasks, track room status, and streamline communication with all team members.
Create your ultimate cleaning dream team!
Ready to streamline your team management?
RoomRaccoon's hotel housekeeping software makes it easy to create profiles for each member, including their roles, contact info, work schedule, and more!
Assign tasks and monitor performance, making teamwork a breeze.
Get your housekeeping schedule spot on, from day one.
Don't cut corners, clean them!
Easily keep track of which rooms need cleaning with real-time room status updates, assign tasks, and add specific instructions for your team in the notes section.
Stay up-to-date on the progress of tasks and any comments left by your housekeepers. Stay organized and stress-free!
Improve team communication with the hotel housekeeping web app.
Stay connected in real-time with the hotel housekeeping web app designed for easy access on mobile devices. From the palm of their hand, housekeepers can:
View tasks plus any specific notes for extra jobs like preparing room add-ons.
Start a timer to track progress.
Complete tasks to update the room status.
Report maintenance issues and submit photo proof.
Report lost and found items.
Call reception.
RoomRaccoon's hotel housekeeping software, equipped with Smart Tasks, streamlines the organization of cleaning and maintenance schedules — daily, weekly, or monthly.
Whether scheduling bi-weekly window cleaning or monthly AC maintenance, you can effortlessly stay on top of all your housekeeping tasks.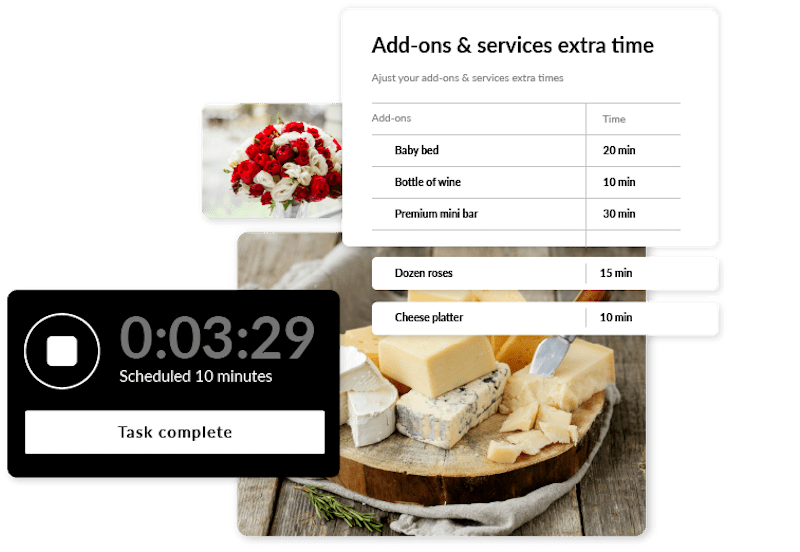 View your room add-ons in the housekeeping software module
Empower your housekeeping team with the ability to quickly prepare for guests' unique needs with room add-on visibility.
Always be well-prepared and deliver exceptional guest service!
Housekeeping reporting and forecasting
Dive into the housekeeping forecast report to anticipate upcoming cleaning needs and employ the housekeeping scheduling software to plan ahead.
The report shows details of current and future reservations, such as arrival rooms, stayovers, and check-outs.
FAQs About Hotel Housekeeping Software
1
What is housekeeping software?
2
What factors should I take into account when selecting hotel housekeeping software?
When embarking on the task of selecting housekeeping software, it is crucial to take into account a range of features and capabilities. It is also important to consider your hotel's needs, including the size of your staff, the complexity of your operations, and your specific reporting requirements.
By carefully weighing these factors, you can make an informed decision that will help you optimize your housekeeping processes and maximize your efficiency and productivity.
Housekeeping Schedules:

The software helps housekeeping managers organise and prioritise cleaning and maintenance tasks for each room or unit. RoomRaccoon's housekeeping module lets you schedule Smart Tasks in advance.

Housekeeping Web App:

Opt for housekeeping software with mobile responsive interfaces for effective communication on the go. Housekeepers can easily access RoomRaccoon's housekeeping module by logging in on their phones and creating a quick web app shortcut.

Room Assignment:

It assists in assigning team members to guests' rooms and makes it easier to update room statuses and manage tasks.

Team Management:

The ability to create team member profiles to monitor availability and performance. This is especially handy for hotels that outsource their housekeeping and maintenance.

Integration with Other Systems:

It is important for your housekeeping team to consider data such as room add-ons. Ideally, your property management system should be able to communicate this information.
3
How much does hotel housekeeping software cost?
RoomRaccoon's hotel management system (HMS) subscription starts at £119/month for the essentials package. Our HMS includes an integrated housekeeping software module as an upgrade. This means you'll have housekeeping management capabilities and benefit from a robust hotel PMS, channel manager, and integrated booking engine.
Visit our pricing calculator, input your number of rooms, choose a package, and view prices for a quote.