PROPERTY MANAGEMENT SYSTEM
Simplify operations and enhance the guest journey with a hotel PMS
Convert tasks into saved time – covering guest communication, payments, reservations, checkouts and more. Optimise guest experiences through automation with RoomRaccoon's PMS.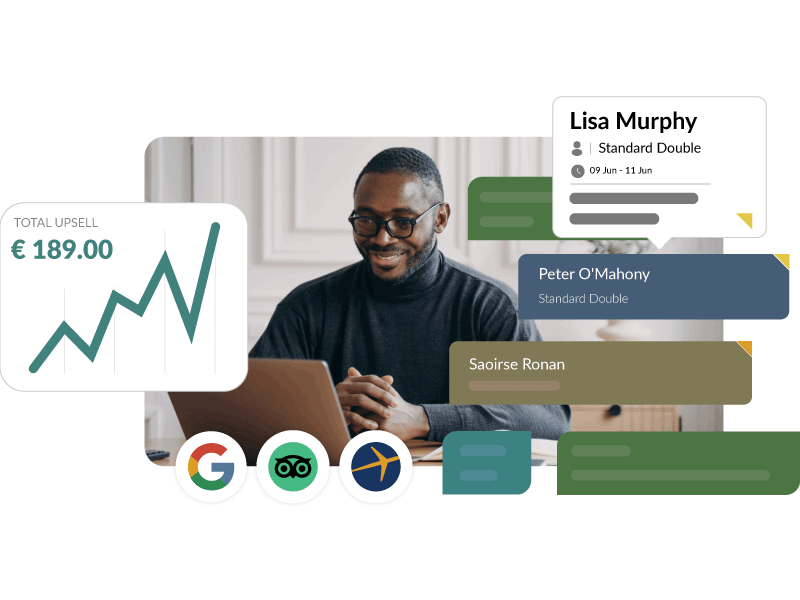 Save valuable time, cut costs, and optimise tasks with automated processes.
Enjoy more 5-star reviews
Use guest-centric tools to deliver an integrated, frictionless user experience.
Higher guest lifetime value
Incentivise guest loyalty with features that build a personalised connection.
Get an instant snapshot of your reservations with an easy-view calendar dashboard. Simple "drag and drop" allows you to move or upgrade a room reservation. You can open a reservation with one click to view registration and billing details.
Reservations are color-coded according to the real-time status for easy viewing.
NEW
Manage groups easily with Room Allotment
Room Allotment makes it easy for independent hoteliers to work with travel agents, corporate groups, and event planners by efficiently managing group bookings.
As a hotelier, you can easily create a group booking by allocating availability to a group profile in just a few simple steps. Accommodate different types of group business with flexible room selection options:
Flexible group booking management

for hoteliers, bookers, and guests.
Booker & Guest-driven room selection
Share a custom booking engine link with the booker or guests to reserve allotted rooms.
Best for: Weddings & Travel Agents
Hotelier-driven room assignment
Manage and allocate specific guests to rooms.
Best for: Corporate events
Intuitive front desk management
Register more guests in less time with RaccoonID, which scans identification documents by reading the bar codes and auto-fills guest information in the correct fields in the reservation.
Online Check-In & Check-Out
Streamline your guest registration and departure with our hotel Check-in and Check-out software. Gather guest information like passport and flight numbers, dietary requirements and more during Online Check-in, and invite guests to settle outstanding charges with quick and easy Online Check-out.
Generate more revenue before your guests even arrive with RaccoonUpsell, our automated guest service menu. Upsell room upgrades and extra services for higher RevPAR.
View guest account activity in real-time, including imported VCCs from OTAs.
Folios are automatically generated at check-out. You can customize folios, split them, and send payment requests from a single screen.
Keep guests informed and build relationships throughout the customer journey with automatic confirmation emails, personalized post-stay follow-ups, and revenue-generating pre-arrival emails.
Encourage repeat visits by sending post-stay emails with promotion codes that former guests can redeem when booking directly.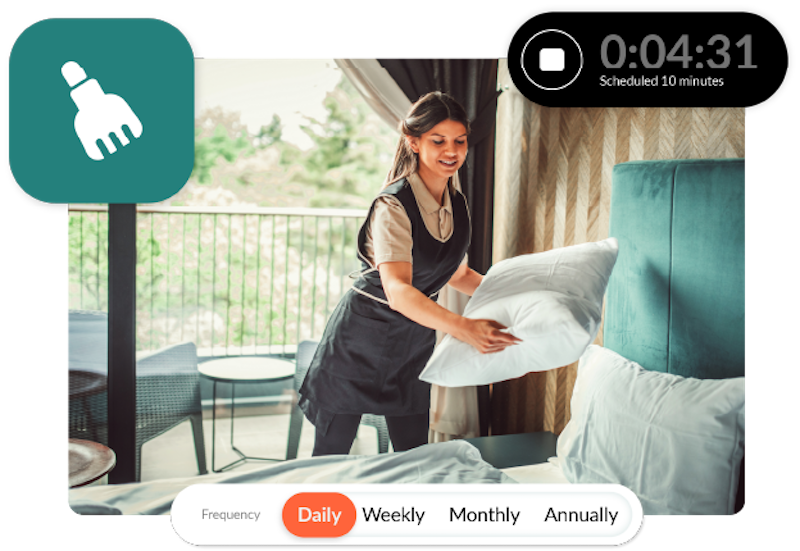 Maintain the best-kept rooms with RaccoonHousekeeping
RoomRaccoon's hotel PMS is complete with native housekeeping software. You can assign tasks and track room statuses from a real-time feed.

Housekeepers can use the mobile web app to update room statuses and post comments – all from the palm of their hand.
Be a step ahead of your competition
RaccoonRev is a native revenue management tool that shows you data from your property and the market to help you make better-informed decisions and adopt a more strategic approach to pricing.
Know when your competitors increase or decrease their rates and when they're sold out.